Due to popular demand, I am back! I have been told over and over again "We miss reading your blogs, why don't you start writing again?"  Truth be told, it was only Marguerita and Claudette that inquired, but never the less, I am announcing the return of my blog which can be found at retiringinparadise.com.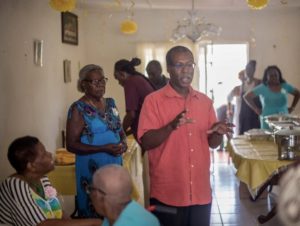 This time instead of weekly, I will be posting only once a month (unless something of special interest occurs.) I already have 3 of the 12 topics for the next year, "Bajan Time", "Bajan Picnics" and "Bajan Monkeys part-3, Monkeys that I like."
The reason for my less ambitious schedule is because of my complete immersion into the Bajan culture! It used to be when I went places or to events, I would grab a seat or stand on the periphery writing or making mental notes of my observations. Now, you are much more likely to find me in the center initiating a debate or conversation. My comfort and knowledge of the dialect makes it easier to understand and to be understood. Don't worry, there is still some confusion which means there will be a "Bajan Dialect Part 3." If you haven't already, you should read Bajan Dialect parts 1 and 2, you'll enjoy them!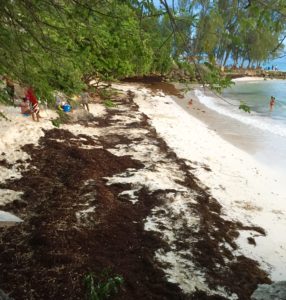 While I was gone you may have missed a historical event and some challenges in Barbados. First, Barbados has elected its first female Prime Minister, Mia Amour Motley. Recently there has been a sewage crisis on the south coast and *sargassum (seaweed) on many of our beaches. Both issues are currently under control but things could change.
There has also been a gasoline usage tax that has raised the price of gas to $3.88 per liter. The increase makes gasoline $14.75 bd** per gallon or $7.37 usd. I spent $140 bd to fill my tank yesterday and it makes me wonder how the average Bajan can afford fuel and upkeep of their vehicles. Fortunately Barbados is a small island just 166 square miles so personally, I don't drive as much as I did in the US. In fact, when I ride my motorcycle (which takes about $50 bd to fill) from the southern most end in Oistins to the northern most tip in St. Lucy covering the entire island takes a mere 45 minutes or so.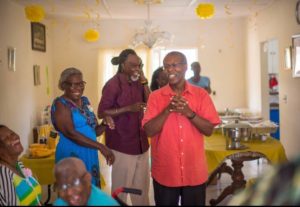 Now that I have been here a full year, I can honestly say that I feel more comfortable here in Oistins, Christ Church Barbados than I do in Randolph, Massachusetts, USA.
I love Oistins because it's a quaint fishing village where the aroma of home cooked meals permeates the air, friends lime on their verandas, people give a shout as they slowly amble by the house and neighbors act neighborly. As we walk daily through Oistins as the "walking couple",*** we speak to everyone we pass. There is no place on this earth I'd rather be!
*Sargassum is a genus of large brown seaweed (a type of algae) that floats in island-like masses. Pelagic brown algae in the genus Sargassum. The berry-like structures are gas-filled bladders known as pneumatocysts, which provide buoyancy to the plant.
**bd is Barbados dollar, usd is US dollar. The exchange rate is approximately 1 usd  equal to 2 bd.
***Sandra and I were speaking to a lady at the beach when she suddenly recognized us and said "Oh I know you, you're the walking couple!"
(Visited 128 times, 1 visits today)