A couple of years ago I was speaking to a lady in a store that said she liked my accent. I told her,  "I don't have an accent, you have an accent!" I thought about what she said and realized that in Barbados, I am the one with an accent! Also, there are times that people don't understand what I'm saying just as I have difficulties with them occasionally.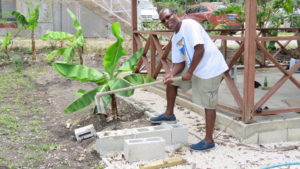 The biggest misunderstanding so far was when Sandra's aunt told me she was looking for a whore for her son and asked if I had one. Now I know Bajan mothers will do almost anything for their adult male children but I thought this was going too far! So I just had to ask why she was looking for a whore her son because if he felt he needed one I am sure that he could find one on his own on Nelson Street. She said,  "Not a whore Calvin, a hoe, a hoe, the kind you hoe dirt wid!" Boy, we had a good laugh for a few days on that one!
Since we are remodeling our house on a tight budget, most days I have to run errands for our contractor Timothy. One day he sent me to the hardware store for a peck wid handle and a hass and stable. I had him repeat several times because I had no idea what those things were. Finally he said, "Mon just go to de store and tell de man what I said and he'll give you what I want."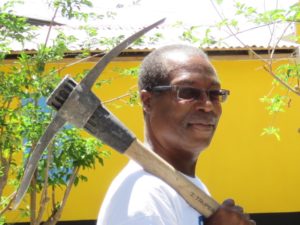 I walked into the store and greeted the cashier with a "Good morning" and continued to the back. I found a clerk and said "Good Morning" then asked him for a peck with handle and a hass and stable. The clerk said "No problem" and went to the pick heads and asked me what size pick head I wanted 2 inch or 4 inch then grabbed a wooden axe handle from the stand. Okay, Tim called the pick a peck or at least that is what I heard.  I couldn't wait to find out what a hass and stable was.  The clerk went to the next aisle and showed me the hasp display that had a rack of hasps. I'm still not sure what the stable part is but I got what I was asking for.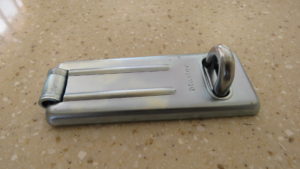 Sometimes I don't even understand Sandra, my wife of 33 years!  She sent me to the the store for a taga malt. You should have seen me going through the beverage section saying "Taga, tagga, taga, tagga" with my index finger extended looking at every single bottle. I did not want to hear, "You didn't look properly" from Sandra when I returned so I looked again! The second time through it dawned on me, Tiger Malt! When I gave her the Tiger Malt, I  told her that  she told me to get a Taga Malt, she said "Right, I said Taga Malt." I told her it is "T-i-g-e-r, tiger."  She gave me a look and a long chupse, I gave up!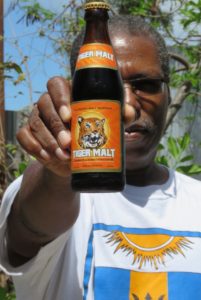 At the garden center a few weeks ago a woman gave up on me! After repeating something I could not understand three times she finally gave up and said "Okay, Ma'am I'm gonna  to talk to you" and spoke to Sandra who translated that she was saying "These plants are for indoors not outdoors".
I find that most Bajans that work in the service industries speak very clearly at work but when they get home with their friends it's pure dialect. Maybe it's a good sign that when people see me they see a Bajan and let bare dialect roll off their tongues.
(Visited 1,252 times, 1 visits today)