In the US there is an expectation that after finishing school that "successful" young adults will move out and leave the nest. For those that are unable to move because of the economy  and other reasons, there generally is a plan to move out at some point in time.
But in Barbados, the Caribbean, Africa and some European countries there is no such plan or expectation. In fact, it is expected that young adults ain leffin home until as a friend said, 'they're dead!' There is no stigma attached to grown women or men staying with their parents.
Last week I made a post to my blog entitled Bajans Live Long Lives  it was about Mrs. Enid Agard who is 101 years old. Although I posted a picture of the 3 generations I did not mention that all three live in the same house. I was able to see first-hand the care and the respect that is given as the mother takes care of the grandmother and the grandson looks after them all.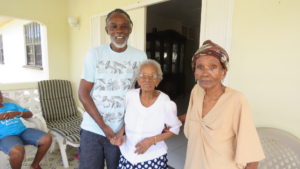 When I asked some people over the age of 50, why they are staying at home, the first thing they all said was " Rent!" It's cheaper to stay at home where everyone can share the household bills and responsibilities .  Sandra's cousin Timothy said  "Why should I leave here and  pay $1200 in rent when I have a perfectly good place to stay for free." In Tim's case, he is now taking care of his disabled mother but he quickly told me that even if she was able bodied, he ain leffin home!
I have seen countless situations where this arrangement works well, however there are can be issues.  Problems  pop up when everyone does not  carry their own weight. In fact,  the atmosphere can be toxic if mom (as moms do) treats everyone the same regardless of if they are contributing with funds or helping around the house. There  can also be problems as the transition from teenage child to adult child when parents expect adult children to follow the same rules of the house as when they were younger. Finally, there can be unreasonable expectations when children have good jobs. My electrician told me he was expected to pay for renovations, rent, utilities and food. He finally got fed up and decided it was cheaper to live on his own.
Despite issues it seems that the overwhelming majority find a way to resolve the issues or decide that they can live with the problems. Occasionally, I've seen the other side of the coin where children won't even acknowledge their parents. However,  in the few cases I've seen it was usually children with drug or mental problems.
The benefits are not a one way street, when generations live together it teaches the youngest generation about gratitude, patience, tolerance and love of the elderly. It gives the oldest generation an opportunity to pass down stories, traditions and to be around loving family during declining years.
The Bajan culture is one that respects elders and it's being passed on to the next generation. I find this especially true for the respect and adoration that is given to mothers  but it's for fathers too. In the US in general, children call their parents mommy and daddy then as they get older they refer to them as  mom and dad or something like that. Not so in Barbados, it's not unusual to hear 50 and 60 year old men and women  still calling their parents Mummy and Daddy as terms of endearment.
Once you consider the financial benefits, home cooked meals by the best cook in the world (mom) and the opportunity and duty to assist with aging parents it is easy to see why "Bajans Ain Leffin Home!"
(Visited 212 times, 1 visits today)