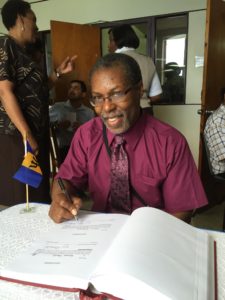 It took approximately 6 months for my children to become Barbadian citizens by decent as Sandra was born in Barbados. The citizenship process was fairly simple and straight forward. I recommend that every Bajan with dual citizenship go through the process so their children can be dual citizens.
The process for my citizenship was much more difficult. I went through a rigorous vetting that included an FBI background check. My wife said jokingly "We just don't want anyone coming here!"
It took approximately 4 1/2 years mostly because I visited only once a year.
August 2011 – The original papers were filed at the Barbados Immigration Office
August 2012 –  I was told that the forms changed so they had to be redone.
August 2013 –  Sandra and I completed a phone interview.
August 2014 –  I delivered the FBI background check.
December 2014 –  I was assigned a new immigration officer, Ms Lewis.
April 2015 – My citizenship was approved!
June 2015 – I paid the citizenship fee.
March 2016 – The swearing in ceremony.
Helpful information:
Make sure that you have originals of all required documents.
Keep copies of everything you file.
Make a log with the name of every person you talk to.
For a great starting point, check the government website of the country you are applying for citizenship to (check under the Immigration Office or something similar), or check with their consulate office if you are abroad.
Becoming a Barbadian citizen was the first step that I took towards "Retiring in Paradise!" I am now proud to be a Bajan!
Click for the link to the Barbados Government website about what you need for citizenship.
(Visited 758 times, 1 visits today)