Yesterday Sandra and I went to pick up an old friend and her mother visiting from the US at their home here in Barbados. The exchange at the door showed me a part of the Bajan culture I hadn't noticed before even though I see it all the time! I'll try to describe and explain it.
I went to the door and knocked three times, it went something like this.
KNOCK,KNOCK,KNOCK  I waited and no response. I tried again.
KNOCK,KNOCK,KNOCK  I noticed the windows were closed and wondered if they had remembered we were coming by to pick them up. I tried one last time!
KNOCK,KNOCK,KNOCK  Finally I heard from behind the door "HELLO?"
Now that is what happened from my perspective, here is what happened from the inside the house.
KNOCK,KNOCK,KNOCK Mother: "Did you hear something", Daughter: "No mom I ain here nothing."
KNOCK,KNOCK,KNOCK. Mother: "What is that knocking sound?"
KNOCK,KNOCK,KNOCK Daughter:"Oh, I think there's someone at the door, "HELLO."
The cultural part that I missed was Bajans don't knock on the doors or ring door bells, they just shout the name of the person they are visiting! In fact, most houses don't even have door bells. For instance if someone is coming by our house, they simply call out our name or when people pass by the house they holler "SANDRA, CALVIN!" as they go by. Normally we shout back "HEY!" or "ALRIGHT!"  I'll ask Sandra if she knows who it was she'll usually say,"I have no idea!"
If you are from the US, UK, or Canada you are probably like me, I always knock or ring the bell when I visit. Back in Boston, I would never just yell for my friends like "Hey Rodney! Hey Garry!" instead, I ring the door bell and wait for someone to answer.
Whenever I knock on the door at Sandra's friend Claudette she always knows that it is me. I can hear her say, "It's Calvin." I always thought it was because she assumed that Sandra called me to pick her up. Now I know it's because I am probably the only person that knocks on her door. I have noticed that when Sandra arrives she just hollers" Sealy!"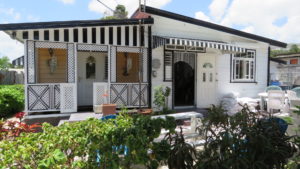 A Bajan friend of ours from England said he was told "Never knock at my door again!" when he went to call on a female friend. When he knocked he heard from behind the door "Who de body is? " After he identified himself, she told him in the future just shout her name because the only people that knock on doors are the police!
Over the past 7 months I have had many deliveries and several service people come to the house. On every occasion they either tooted their horn or just came to the front door and loudly said "Mr. McDowell." Nobody has knocked on the door yet!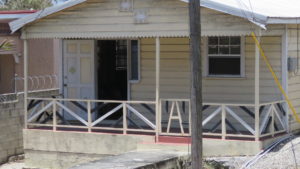 So far I have yet to shout out anyone but now that I know it's a cultural thing I will try to get out of my comfort zone. I'll let you know when I do on another post! Well, I gotta go, someone is knocking at the door,  oh I mean calling my name at the door LOL!
(Visited 196 times, 1 visits today)